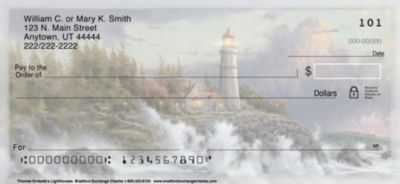 Christian Checks - Thomas Kinkade's Lighthouses Inspirational Christian
Lighthouse Checks - Inspirational Thomas Kinkade Lighthouse Personal Checks are Inspiring Beacons of Hope and Faith - Standing securely upon the shore and extending its guiding beacon to bring travelers home safely, the lighthouse tower rises toward Heaven.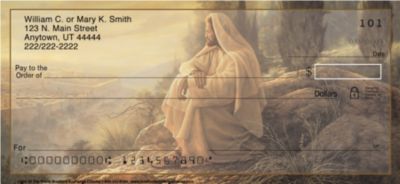 Jesus Light of the World Inspirational Christian
Christian Checks Give Religious Inspiration with Every Christian Personal Check You Write - Available in two convenient formats! Choose your favorite: top-tear or side-tear.
Angel Kisses
Angel Checks Showcase the Beloved Angel Art of Sandra Kuck on Inspirational Personal Checks - The sweet innocence of a little angel's kiss is yours every time you look upon this designer check collection featuring the beloved angel art of acclaimed artist Sandra Kuck.
Christian Checks - The Virgin Mary Religious Christian
Virgin Mary Christian Artistic Checks Honor the Religious Miracles of the Blessed Holy Mother - The miraculous appearances of the Holy Mother Mary to saints and ordinary people all over the world inspire our hearts with Christian faith in her loving presence in our lives.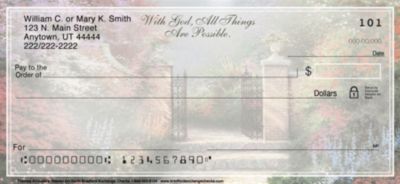 Christian Checks - Thomas Kinkade's Heaven on Earth
Uplifting Thomas Kinkade Check Designs Welcome You to Tranquil Visions of Natural Beauty! - Welcome to Thomas Kinkade's Heaven On Earth a breathtaking collection of Thomas Kinkade check designs.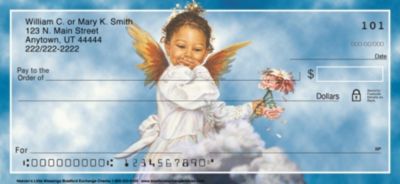 Heaven's Little Blessings
Adorable Cherub Angel Check Designs Keep Your Spirits Floating on Clouds of Hope and Joy! - Irresistible. That's the only word to describe these darling cherub angel check designs featuring wonderfully expressive angel art by acclaimed artist Sandra Kuck.
Celebrate Life
Add Some Spontaneous Fun to Every Day with Exclusive Celebrate Life Personal Check Designs! - Smile! Bradford Exchange Checks® is delighted to present this exclusive collection of Celebrate Life designer personal checks showcasing artist Pepper Tharp's exuberant use of color and wonderfully whimsical floral designs.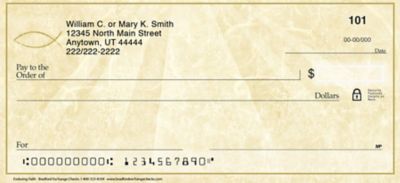 Christian Checks - Enduring Faith
Jesus Ichthus Fish Symbol Personal Checks Proclaim Your Enduring Faith in God's Love - The earliest Christians used the fish symbol known as the Ichthus design as a password of their enduring faith in Jesus Christ during times of Roman persecution.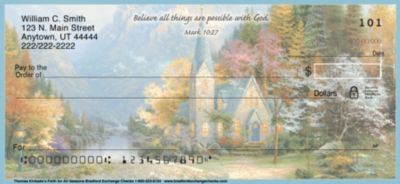 Thomas Kinkades Faith for all Seasons
Spread the Inspirational Joy of Welcoming Country Churches with Thomas Kinkade Art Personal Checks - Spread joy and hope wherever you go with these inspirational Thomas Kinkade personal checks.
Christian Checks - Heartfelt Expressions
Girly Checks - Beauty and Wisdom Gives these Inspirational Floral Art Personal Checks an Uplifting Charm! - Invite the timeless beauty of flowers combined with uplifting words of wisdom into your everyday life with these inspirational floral art personal checks.
Purr-fect Angels
Let the Divine Touch of Angel Kittens Become a Daily Joy with these Angelic Cat Checks - There's something every cat owner knows: their fuzzy little darlings are really angels, and the proof is in these cat checks, available exclusively from Bradford Exchange Checks(R)!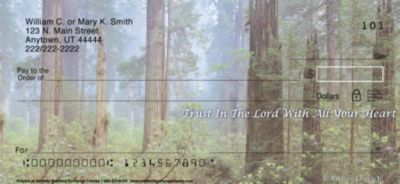 Prayers of Serenity
Discover a World of Divine Beauty with Rodney Lough, Jr. Photograph Checks - Let the inspiring beauty of nature send your spirit soaring with these Prayers of Serenity personal check designs.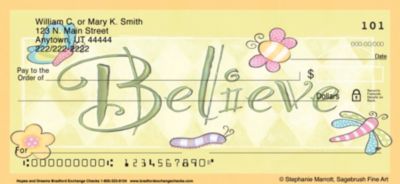 Hopes and Dreams
Gossip Girls Checks - Encourage the Best in Yourself with these Colorful Inspirational personal Checks! - The world is your oyster when you follow the advice on these delightful Hopes and Dreams colorful inspirational personal check designs!
Live, Laugh, Love, Learn
Enjoy the Elegant Beauty and Practical Wisdom of these Inspirational Personal Checks - Bring a touch of exuberant elegance to every day with the Live, Laugh, Love, Learn inspirational personal checks from Bradford Exchange Checks(R).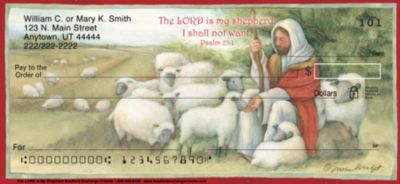 Christian Checks - The LORD is My Shepherd
Enjoy the Tranquil Peace of The LORD is My Shepherd Religious Check Designs - Fill each day with a tranquil reminder of Heaven's love and guidance - carry The LORD is My Shepherd religious check designs.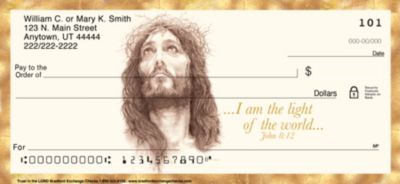 Trust in the Lord
Jesus Check Designs Offer Daily Reminders of Heaven's Love. - Invite the wisdom of Heaven into every day with Trust in the Lord check designs.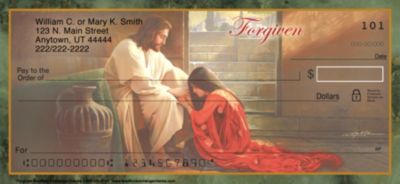 Christian Checks - Forgiven
Jesus Christ Designs Make These Christian Personal Checks a Special Part of Every Day - Enjoy a gentle reminder of Jesus' love every day - bring home these beautiful Forgiven Christian personal check.
Good Fortune Personal Checks
Good Fortune Chinese Art Check Designs Bring Wealth, Luck and Prosperity Your Way! - Could you use a little extra wealth, luck and prosperity? Invite plenty of positive energy into your life - carry these Good Fortune Chinese art check designs from Bradford Exchange Checks(R)! Four beautiful Chinese ladies grace these elegant checks, each highlighted by timeless symbols that encourage all good things to come your way.Brought to you exclusively by Bradford Exchange Checks, these beautiful Chinese fortune personal checks are expertly re-created with premium-quality check printing. Don't wait to enjoy all the universe has to offer - bring home the wealth, luck and prosperity of these Good Fortune check designs today. Order now! Pricing shown is for 2 boxes of Singles.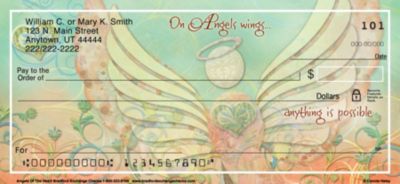 Angels of the Heart
Angels of the Heart Brings Strength and Love with Inspiring Angel Check Designs - Take comfort in the loving presence of angels with these Angels of the Heart angel themed personal check designs.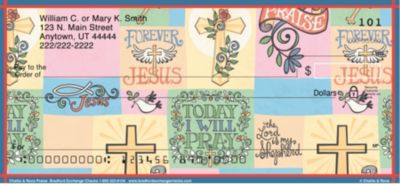 Challis & Roos Praise
"Celebrate the Joy of Faith with These Challis & Roos Praise Checks - Living in the light of the Lord makes the world colorful and bright! Carry around a vibrant reminder of the joy found through faith with these inspirational checks from Bradford Exchange Checks(R)!