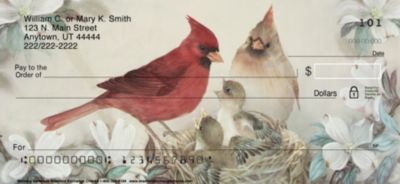 Morning Serenade Bird Scenes By Lena Lui
Nature Wild Bird Checks Celebrate Family in Exclusive Lena Liu Artistic Bird and Flower Checks - Devotion, harmony, tenderness...this is how a family blossoms in nature! While fragrant flowers bloom, cheerful songbirds nest and nurture their fast-growing families. As seen through the eyes of Hall of Fame Artist Lena Liu, these wondrous events are infinitely more beautiful because they celebrate the simple joys of family.
Owls With Style
These Owls with Style personal checks are perfect for any animal lover. They have a beautiful style to them that will make any person happy to see these owls.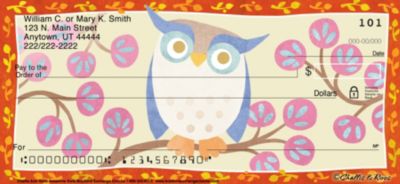 Challis & Roos Awesome Owls
Charming Owl Art Personal Checks Showcase Artists Challis & Roos - Who? Who? Why Challis & Roos Awesome Owls art personal checks from Bradford Exchange Checks(R) - of course! You'll fall in love with these delightful woodland art scene checks by acclaimed artists Ian Challis and David Roos.
Owl Checks - Owls
Whooooo... Owl Checks - Owls Personal Checks
Owls Personal Checks
Get close to nature with Owls Personal Checks featuring four owl species with their beautiful big eyes and ear tufts. Owls sometimes are symbols of wisdom, magic, and perception or intuition. On the opposite side, some use owls as symbols of death, darkness, and deception since they are night flyers and people have an innate fear of the dark. Other mythologies combine the light and dark aspects of owl symbolism, using the owl as a symbol of death and renewal which is the cycle of life. Owls Personal Checks are available in single and duplicate check format. Matching address labels and a coordinating checkbook cover are also available.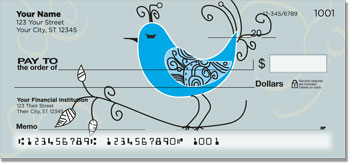 Whimsical Bird Checks
Whimsical Bird Checks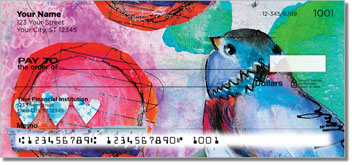 Birdie Checks
Birdie Checks
Winking Owl Checks
Winking Owl Checks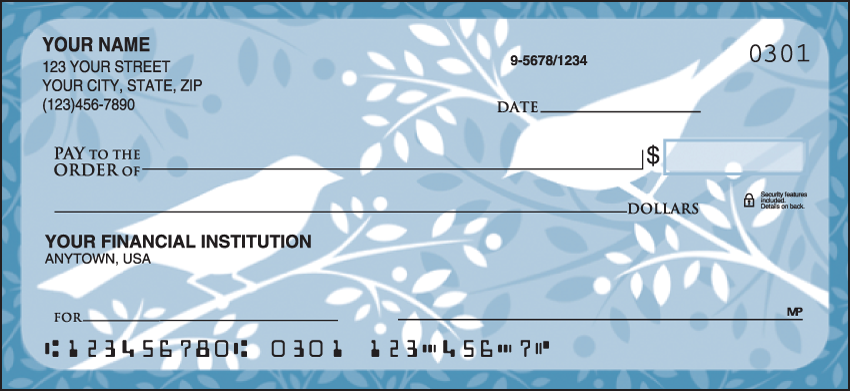 Botanical Silhouettes Garden Personal Checks - 1 Box
Admire the beauty of nature with these sophisticated illustrations of birds butterflies and dragonflies in silhouette. We are now offering Botanical Silhouettes Checks. Also enjoy a wide selection of more Garden Personal Checks.
Feathered Friends
Feathered Friends Personal Checks with cute little birds welcoming the world with their song from the safety of their branch.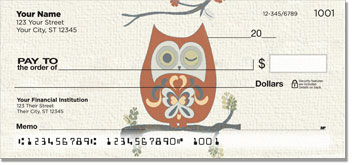 Country Owl Checks
Country Owl Checks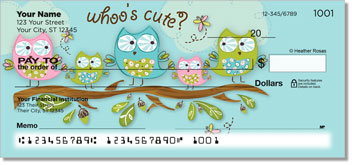 Whoo's Cute Checks
Whoo's Cute Checks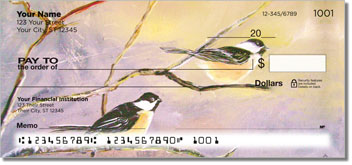 Fine Feathered Friends Checks
Fine Feathered Friends Checks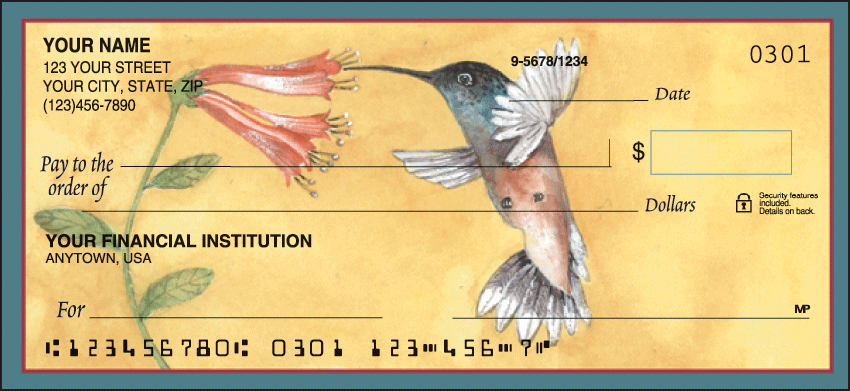 Hummingbirds Animal Personal Checks - 1 Box
These checks feature colorful hummers in mid-flight feeding from a variety of blossoms illustrated by Barbara Wilson. Coordinating address labels are available.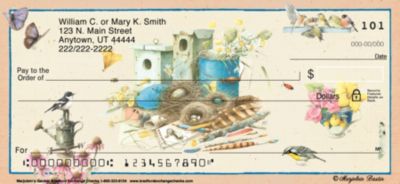 Marjoleins Garden
Enjoy Beautiful Scenes of Nature Every Day with Marjolein's Garden Checks - If you love the sight of blooming flowers and critters running about your garden, you'll enjoy carrying these Marjolein's Garden Marjolein Bastin check designs.
Lena Liu's Flights of Fancy Hummingbird
- Nature Bird Checks Feature Lena Liu's Hummingbird Art on Personal Hummingbird Check Designs - Nature lover and star artist Lena Liu captures Nature's loveliest most fleeting moments - a fragile flower opening its silken petals or a dazzling hummingbird.
Hummingbirds
Close up poses of individual birds makes these Hummingbirds Personal Checks especially beautiful for someone who loves to go bird watching or has bird houses in their back yard. These adorable birds are amazing how they hover over the flowers as they drink the nectar and show the delicacy of their bodies and the beautiful coloring as well. Four poses show off the ability of them to remain almost static while they accomplish their business. The luscious and vibrant flowers add to the beauty of these gorgeous Hummingbirds Personal Checks and will provide endless fascination as well to those who receive a check from you.